Legal teams and eDiscovery experts are familiar with the process of capturing, collecting, and analyzing documents – emails, contracts, word documents, text messages – as part of the eDiscovery process.  Database Discovery extends traditional eDiscovery to enterprise business systems and databases.  Today, many legal matters involve business practices related to pricing, billing, coding of transactions with customers or government payers (Medicare/Medicaid); or internal expenses, payments, or processes for compliance or ethics monitoring and investigations.  These matters can involve thousands or even millions of records spread across multiple client business systems.   Is your firm ready to tackle this type of challenge?
---
"Enterprise data is a huge, untapped area for e-discovery.  More and more cases require firms to understand and interpret data from business systems and databases to effectively defend their clients."  
---
Although many attorneys and legal teams may understand the potential of enterprise business data for their practice, they remain intimidated or unable to grasp how to even start enabling data capabilities within their teams.  With today's cloud technology, firms are longer have to depend solely on expensive external consulting firms or over-burdened IT teams for basic data querying, analyzing, and visualization.   Learn more by downloading our new white paper entitled "Database Discovery:  Extend Your E-Discovery Practice with Enterprise Business Data."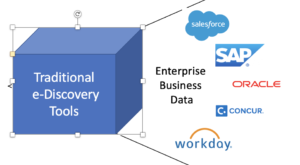 ---
Sapling Data has more than 8 years experience building data analytics solutions and tools.  Our Database Discovery platform enables legal and compliance teams to build a consolidated, cloud-based data warehouse for monitoring, investigation, and reporting needs.