More and more legal matters involving businesses require a new, untapped expertise around business system data.  Traditional E-Discovery vendors focus on unstructured data – documents, emails, text messages, and so on.  The world of databases – business systems like Salesforce, Oracle, Concur, and more – represents a huge blind spot that opens up new possibilities to expand your e-discovery expertise.

Download the Database Discovery white paper to learn about:
An overview of the tools and process required to collect, integrate, explore, and analyze business data
Examples of actual legal matters that were successfully defended using data from business systems and databases
Samples of data analysis and visualizations that combine data from across the enterprise to zero in on the key factors involved in the case.
Sapling Data is a proven analytics partner with more than 8 years and a multitude of case arguments built around business data.  With our tools, we can show your team of analysts how to unlock the potential of enterprise data for your next case.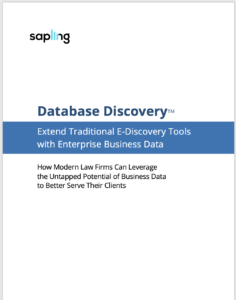 Download the Database Discovery Whitepaper